Special insurance for your special day.
Wedding insurance to protect everything you care about.
Wedding insurance is a specialized type of event insurance that allows you to keep the stress out of your big day.
Ensure you have peace of mind on your special day.
It's no secret that weddings and similar events can be a battle between the joy you naturally feel and the stress of worrying about what might go wrong. Wedding insurance is just one example of special event or "one-day" insurance that helps set your mind at ease about such risks.
Click it. Read it. Cover it.
Click on the hotspots.

Discover your risks.

Get the right coverage.
Wedding and Event Liability
Risk Factor
You book a beautiful venue for your wedding with huge windows looking out onto a gorgeous garden in the summer. But during the reception, you get a little wild while dancing and accidentally break one of those windows! You could be held liable for those damages and the costs associated with their repair.
Solution
Wedding and event liability insurance is often one of the first coverages you'll need to consider for your wedding. It can help you cover the costs associated with property damage or injuries to your guests that you could be held liable for. That could include the broken window or even medical costs associated with any cuts your guests suffer because of the broken glass you created in the above scenario.
Host Liquor Liability
Risk Factor
Open bar or cash bar? The debate around which is best to have for your wedding will be going on long after your event, but your risks will stay the same. If you serve alcohol at your wedding and one of your guests is involved in an alcohol-related incident, you could be held liable for costs associated with property damage or injury.
Solution
In order to protect yourself from liability in alcohol-related incidents stemming from your wedding, you'll want to look into host liquor liability insurance. This particular subset of wedding liability is not always included, so it's important to double-check the policy. If you're hosting your wedding at your home or some other private location, this coverage is even more important since the venue won't have any of its own insurance that could potentially protect you.
Venue and Additional Insured Liability
Risk Factor
You have wedding and event liability insurance to protect yourself from damage or injury you have caused, but what about your guests? Even if it wasn't your fault that someone got hurt or something was damaged at the venue, you could still be held responsible for covering the associated costs.
Solution
Some venues may require you to have additional liability coverage for the venue or other named insureds as part of your standard wedding liability policy. Venue and additional insured liability insurance can help you cover costs associated with property damage or injury caused by your guests at your wedding. This is often an add-on to your basic wedding and event liability coverage.
Cancellation or Postponement
Risk Factor
You've bought the dress and the tux, made the deposits, and sent out the invitations, and now the big day is almost here! But something unexpected and out of your control has happened, and you may be forced to postpone or cancel your wedding. Now, not only are you dealing with the disappointment of losing your wedding day, you have to deal with the financial burden of those lost expenses.
Solution
If your wedding needs to be canceled or postponed for an unexpected reason, cancellation or postponement insurance can help. This coverage applies to family illness, extreme weather, and other unpredictable events, and it can assist in reimbursing the costs of catering, venue rentals, transportation, and more. However, this coverage usually does not cover cold-feet.
Lost Deposits
Risk Factor
When it comes to planning a wedding, you put a lot of trust in your vendors. From caterers to decorators to bakers, there are a lot of hands involved in your big day, and you've probably sent a lot of expensive deposits to them. But what happens if your vendors don't deliver as promised? Not only are you out a wedding cake, but you're out the hundreds you spent on the baker.
Solution
In the event your vendors go out of business, declare bankruptcy, or don't show up to your wedding at all, lost deposits insurance can help cover your financial losses. There are usually some limitations on the coverage; however, you can often recover some of what you lost in those deposits.
Wedding Photo and Video
Risk Factor
You want to preserve the memory of your wedding, which is why you turn to your photographer and videographer to help. But just like with any vendor, things can go wrong. From a photographer who doesn't show up to lost or damaged photos, you are open to risk.
Solution
Wedding photo and video insurance can help protect you in the event something goes wrong with your photographer or videographer. This coverage can help reimburse you if your photos or videos are not delivered to you as agreed upon or if your photographer or videographer just doesn't show up to your wedding. In some cases, a photo and video policy can help cover the cost of reshoots if the photo negatives are lost or stolen, if the film or data storage are damaged, and more.
Special Attire and Jewelry
Risk Factor
Who doesn't love an opportunity to get dressed up and spend a fun evening with the people you love? Beautiful dresses, sleek tuxedos, glittering jewelry—it all must have cost a fortune. But what happens if there's a tear in the wedding dress? What if someone loses the wedding rings? Without the proper coverage, you'll have to pay for those all on your own.
Solution
With special attire and jewelry insurance, you can feel more secure knowing that you may have coverage for issues arising with your wedding jewelry and attire. Jewelry coverage can apply to lost or damaged wedding rings, while attire coverage can apply to issues like torn or damaged wedding attire like dresses and tuxedos. Depending on your policy, special attire and jewelry insurance can cover repair or replacement of the damaged items.
Gift Coverage
Risk Factor
While getting to spend time with the people you love is often the best part of a wedding, the wedding gifts you receive certainly don't hurt. In many cases, those gifts are meant to help you build your new life with your spouse. However, if they get damaged, you could be on the hook for the costs of their replacement.
Solution
Your guests were kind enough to get you gifts, and you want to be able to get the most out of them. Gift insurance is here to help in case you receive your gifts damaged. It can cover the costs associated with the repair or replacement so you don't have to worry about handling it yourself.
Severe Weather
Risk Factor
Your wedding day may be set in stone, but the weather certainly isn't. All it could take is a hurricane, tornado, or worse to cause you to have to postpone or cancel your wedding—which means you could lose your deposits along with your wedding day.
Solution
A subset of cancellation and postponement coverage, a policy for severe weather can be a great addition to your wedding insurance plan. In the event of weather events like hurricanes, tornadoes, and more that result in a postponement or cancellation of your wedding, this coverage can help to reimburse non-refundable deposits that you may be faced with losing.
Call to Duty
Risk Factor
You or your future spouse may be doing your country a great honor by serving in the military—but the military doesn't always follow your schedule. There's always the possibility that you or your spouse could be called to active duty despite your wedding date. If that's the case, you could be responsible for those financial losses without proper coverage.
Solution
As a subset of a cancellation and postponement policy in your wedding insurance, call to duty coverage can help reimburse you for lost deposits and other non-refundable wedding expenses associated with you or your future spouse being called to active military duty or a loss of your military leave.
Sudden Illness
Risk Factor
Illness can come out of nowhere. One moment you're at your rehearsal dinner and the next moment you could be wheeled back into surgery with a burst appendix. Whether it's you, your future spouse, or your parents, a sudden illness can strike at any time, forcing you to postpone your wedding—and forcing you out of non-refundable expenses.
Solution
As a subset of a cancellation and postponement policy, sudden illness coverage can help you with non-refundable expenses associated with a postponed wedding due to a sudden illness that prevents you, your future spouse, and even your parents from attending your wedding. Limits to this coverage do apply as known threats of cancellation, such as infectious diseases like COVID-19, are typically not covered.
What can your wedding policy cover?
Just as every wedding is unique, most wedding insurance policies are customized to the specific couple. Having the right coverage to meet your needs is important. As a general rule, they cover any or all of three main risks:
The wedding being postponed for specific reasons such as illness or a partner being deployed in the military.
Accidental damage to important materials such as food, wedding clothes, or rings.
Service suppliers such as DJs and florists failing to meet their obligations, for example, if they go bankrupt or simply don't show.
Exceptions for the conditions of coverage.
Bear in mind that most policies only cover extreme weather such as hurricanes rather than just bad weather such as rain. You'll rarely be protected against a bride or groom getting cold feet by the way.
To find out if wedding insurance is right for you, contact us today.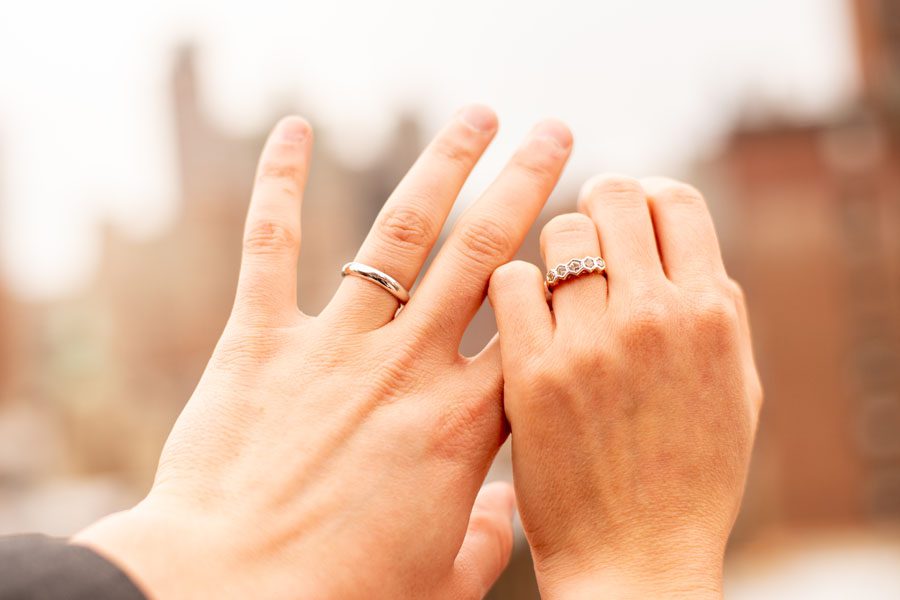 Get Started Today
As an independent agency, we are here to help you find the right Wedding Insurance coverage.
Get a Quote
  Wedding Insurance Quote Request
As an independent agency, we are here to help you find the right coverage.
Get a Quote
It only takes a minute to get started.
Fill out the form, we'll be in touch.

Review options with an agent.

Get the coverage you need.
Would you rather discuss this in person? Get in touch with an agent today!